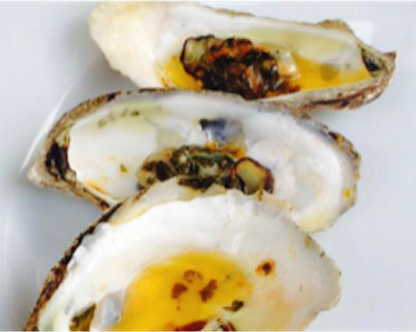 Not too sure if you are ready to take the plunge into shucking oysters?  This shouldn't stop you from trying to serve them at home.  They are a great appetizer addition to any barbeque.  Try this recipe for oysters prepared on the grill with a spicy butter sauce.
Barbequed Oysters
Servings: 4-6 Appetizer portions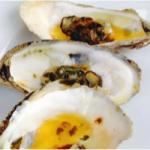 Ingredients
2 dozen East End Oysters
4 Tbs unsalted butter
Juice of 1 Lime
1 tsp hot sauce
1 Tbs fresh minced cilantro
Instructions
In a small saucepan combine all the ingredients except the oysters until butter is melted (this can be done grill side)
Place oysters on a hot grill, flat side up – Close grill lid
After about 2-3 minutes check that the oysters are starting to open
Carefully remove them from grill onto platter using tongs – don't spill the liquor (juices).
Remove the top of each oyster using a mitt or kitchen towel and a small knife.
Add a small spoonful the butter sauce to each oyster.
Return to grill until just heated and bubbly – this happens fast, don't over cook them… just 1 min!
Serve 4 to 6 oysters per person on top of some spicy local greens such as arugula.
Notes
Make sure to use a mitt or towel when opening these – they are hot!