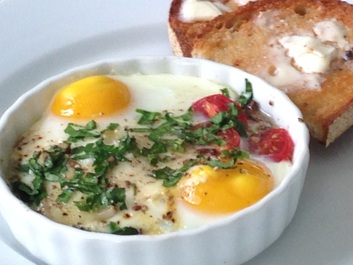 This is a great Sunday morning recipe to make for company and is easily multiplied for more guests. Using shallow ramekins will ensure the egg whites will cook through but you can still have a soft yolk if you choose. Make sure to pickup all your fresh ingredients at the farmers market on Saturday for the best baked eggs!
Baked Eggs
Serves 4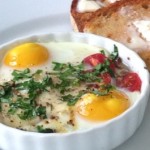 Ingredients
Extra virgin olive oil spray
4 oz aged goat cheese, grated
1/2 tsp fresh thyme, minced
1 tbsp fresh parsley, minced
8 fresh local eggs
1⁄2 lb oyster mushrooms, chopped and sautéed
8 cherry tomatoes, halved
sea salt and ground pepper to taste
Instructions
Heat oven to 375°F. Spray four shallow ramekins with olive oil.
Divide mushrooms between the ramekins, do the same with the tomatoes.
Crack two eggs into a cup without breaking the yolks. Pour the two eggs into a ramekin and repeat until all ramekins have eggs. Sprinkle herbs, cheese, salt, and pepper over the eggs.
Bake the eggs for 10-15 minutes until the eggs have achieved desired doneness.
Serve immediately with some artisan toast.
Notes