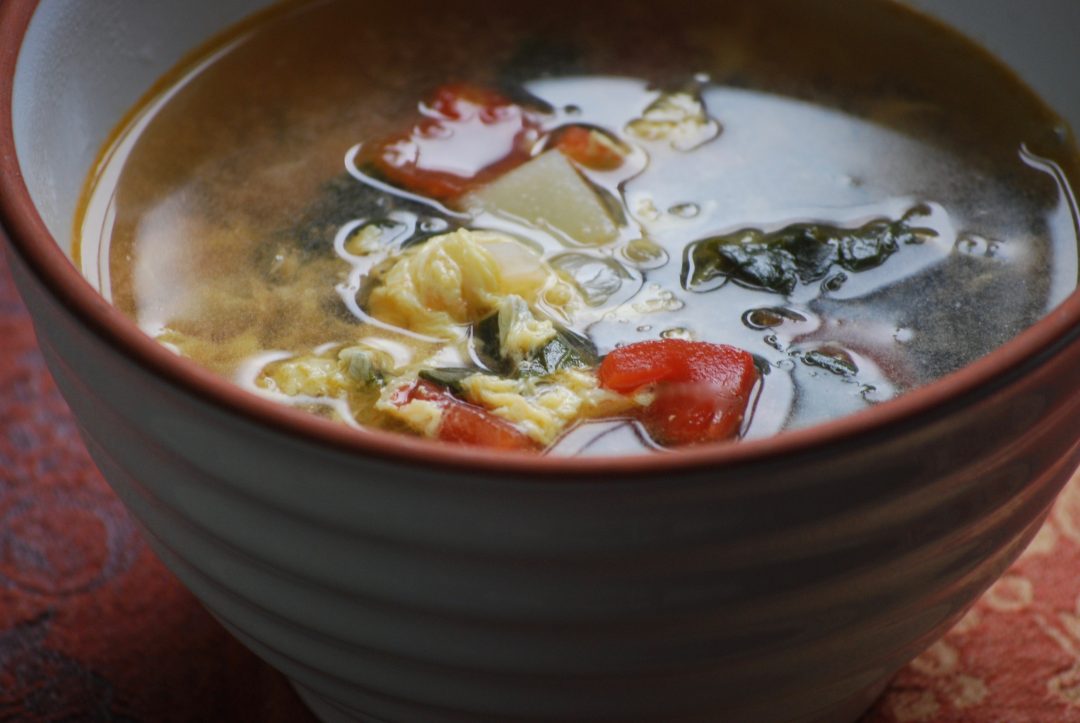 What are those greens that fly off the rack every weekend at the farmers market? It is called Mora, a favorite of the Hispanic community in my neighborhood, so I just had to try it. I am told by the workers at the market that it is used similarly to spinach, often in soups and pupusas. I did a bit of digging on the internet, trying to find recipes to use this in-season locally-grown green. I found that it is also called hierba mora, solanum nigrum, or black nightshade. It was not an easy task to find recipes other then some that were more descriptive of what may go into the soup from a personal dining experience. I went to Rosa, the worker at the market booth that sells this produce, and developed this recipe based on her descriptions. She seemed tickled that I was going to try to make this dish.
Sopa de mora (Mora Soup)
Serves 8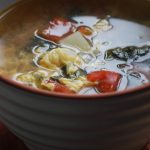 Ingredients
2 Tbs extra virgin Olive oil
½ Red Onion, diced
3 cloves Garlic, minced
1 medium Tomato, peeled and diced
½ small Chili pepper, minced (such as Serrano)
2 quarts low sodium Chicken broth
1 lb Red Potatoes, diced
½ bunch Mora, stemmed and julienned (about 4 cups)
3 eggs, beaten
Instructions
In a large stockpot heat olive oil on medium
Add onion, garlic, tomato, and chili. Cook until onions are translucent, about 5 minutes.
Add remaining ingredients to pot. Cover, raise heat and bring to a boil.
Reduce to a simmer and cook until vegetables are tender, about 15 minutes more.
Slowly pour in the beaten eggs while stirring the soup. The egg will spread out into ribbons.
Add salt and pepper to taste, and then serve immediately.
Nutrition, per serving
Calories: 107 kcal, Total Fat: 1.9g, Sat. Fat: 0.6g, Sodium: 230.7mg, Carb.: 15.7g, Fiber: 2.2g, Sugars: 2.3g, Protein: 5.5g
Exchanges: 1 Starch, 1 Meat