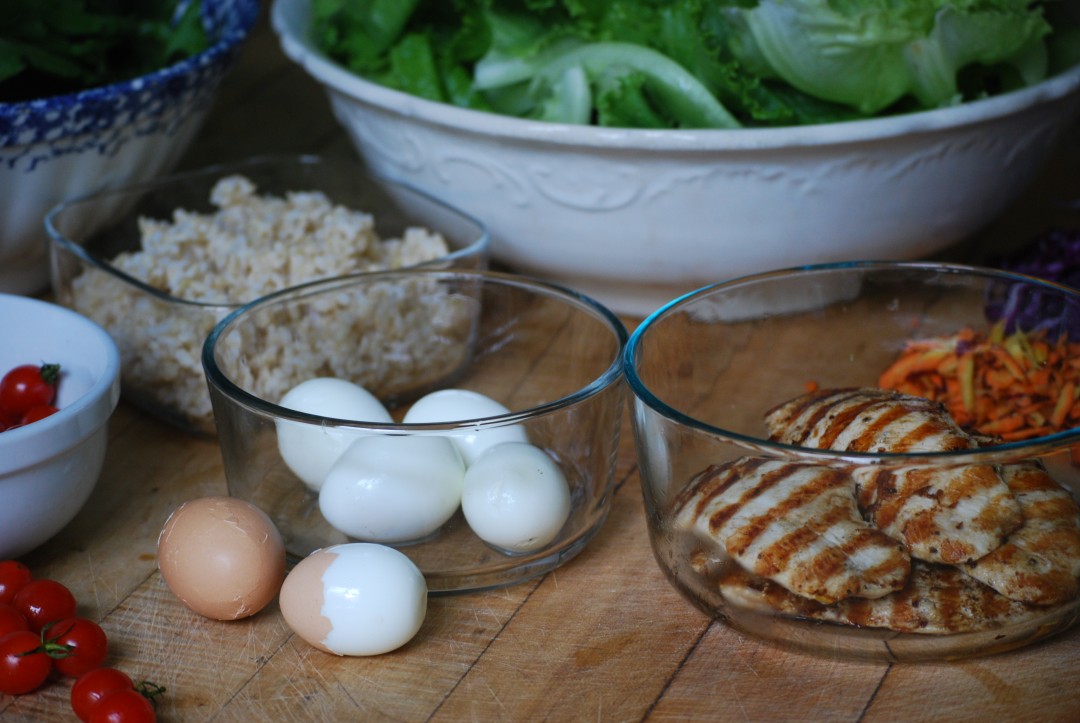 Those who have been in my office know that one of the strategies that I "preach" is that we must prepare ourselves for success if we are going to make healthy mealtime choices.   I thought this might be a great opportunity to demonstrate some of the preps that I would do on a typical Sunday afternoon. These refrigerator staples will be there when you need to pull together a quick on-the-go meal.
My Basics
Big Green Salad
Hard Boiled Eggs
Whole Grains
Grilled Chicken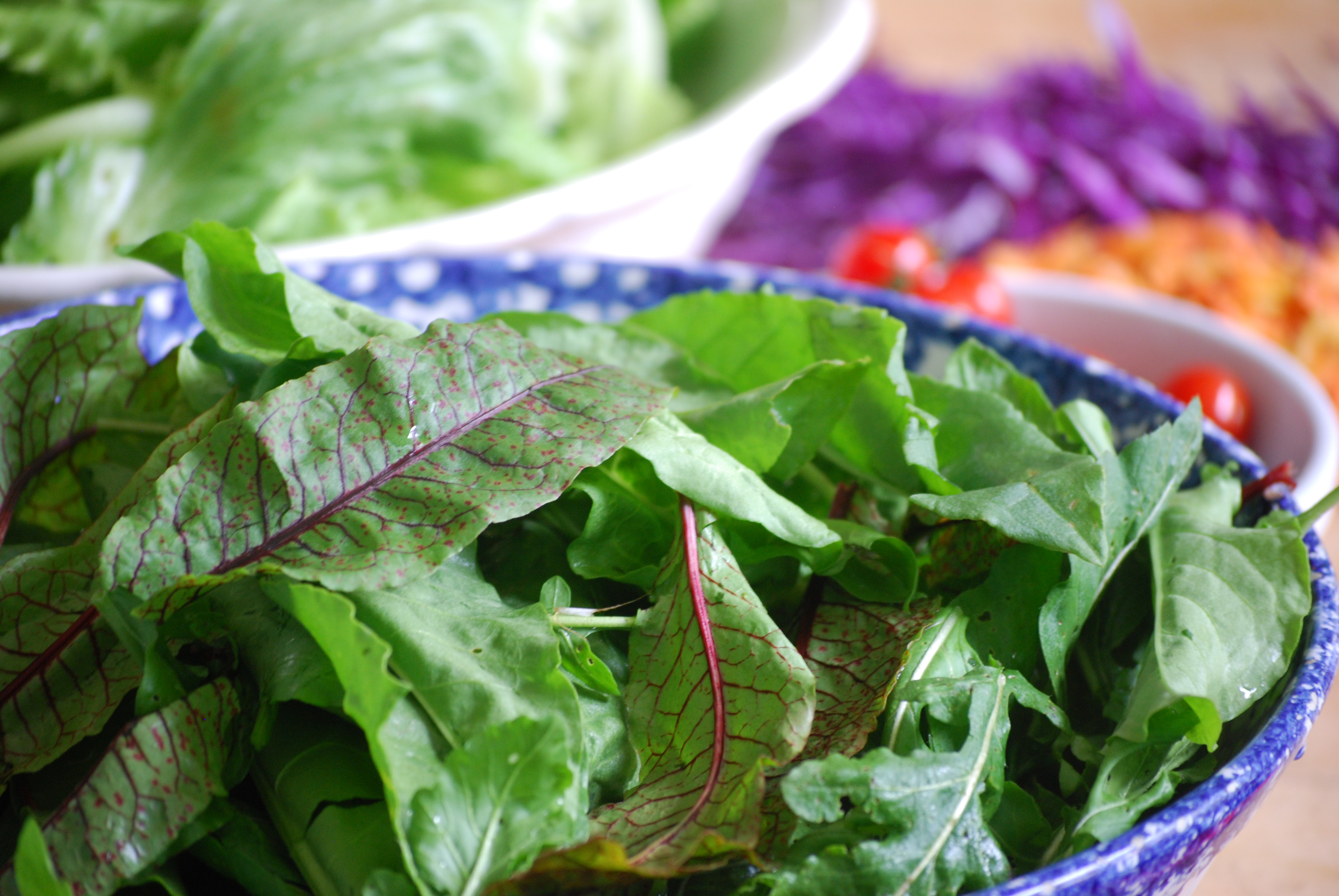 Big Green Salad
Now, the salad is one of the easiest things to prepare in this way. I make a BIG bowl that we use all week. Lots of greens: Romaine lettuce (never iceberg), then a mix of some darker leafy greens – this can be arugula, beet greens, I have some variegated sorrel in here, baby kale, baby spinach… Really whatever you like. I usually add grated carrots and red cabbage. Now here's the thing: don't add wet-type veggies. As is cut cucumbers, cut tomatoes (whole small ones are ok), cut bell peppers, and that kind of thing. These will make your salad go bad quickly. A salad make this way will last up to a week, put a paper towel in the bottom of the bowl to absorb extra moisture.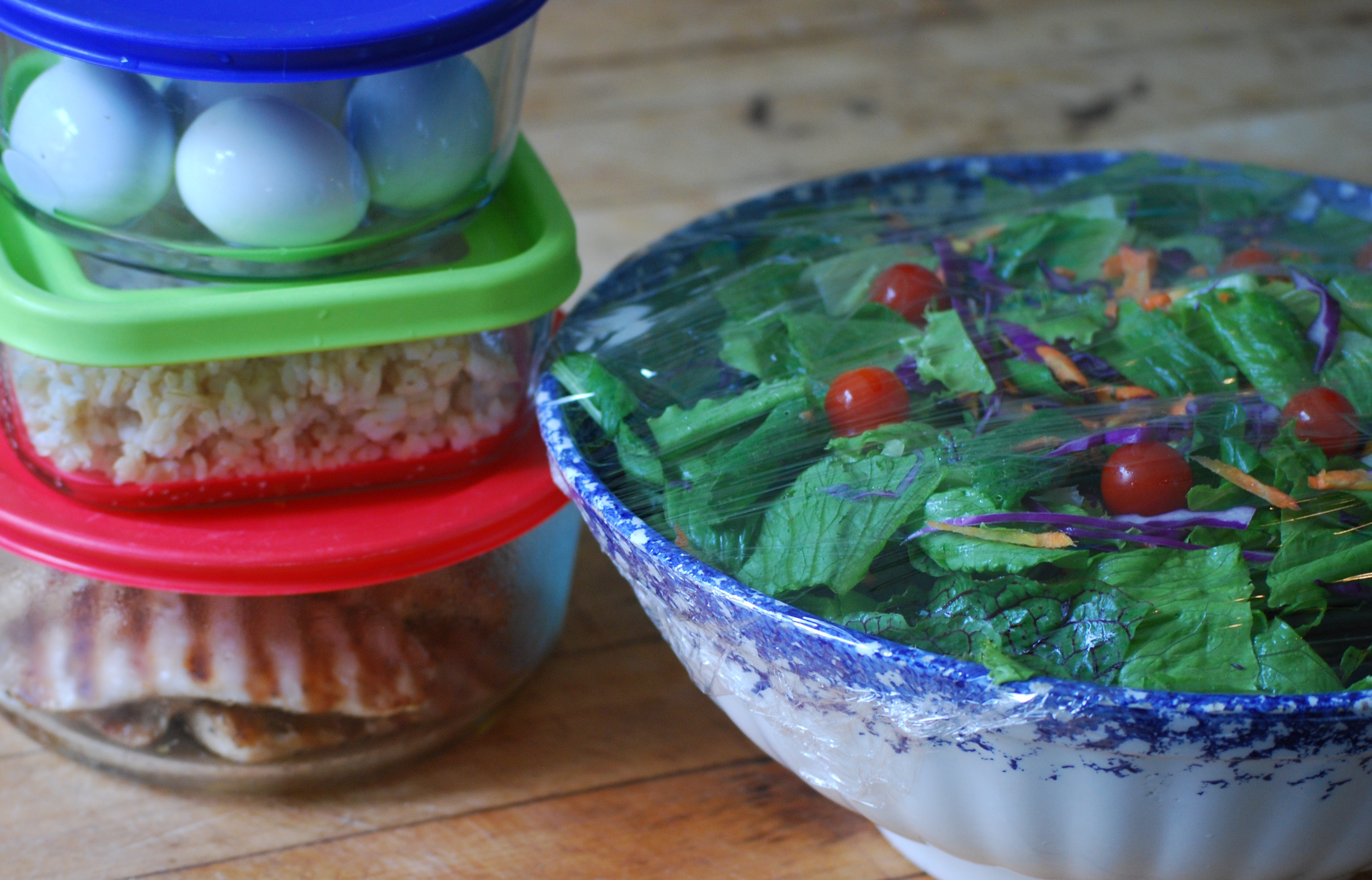 Hard-boiled eggs
I make and peel these ahead so I can grab one quick. Eat it whole, chop it in your salad, or throw in a wrap with some veggies.
What's the best way to make them? There are plenty of suggestions for a perfect hard-boiled egg. I put mine in cold water, add a splash of white vinegar, bring to a boil, cover, remove from heat and wait 12 minutes. Cool them in cold running water, peel, and put in a glass container. Peeled eggs last 3-5 days.
Whole Grains
I will usually make a pot of brown rice, quinoa, barley, farro, or some combination of these for the week. Sometimes I add some lentils too! These will last on average 4-6 days in the fridge. This precooked pot of grains can be added to your salad, to some stock with veggies for a quick soup, or I will even have some for breakfast with a chopped boiled egg and tomato.
Grilled Chicken
This will last 3-4 days in the fridge, you can also freeze pre-grilled chicken. Think of left-over lunches when you make this kind of lean protein for dinner.
If you take the time to do some prep then you will have healthy options to choose from. Check out some of the soup recipes too that you can make up and freeze for a quick lunch pull.