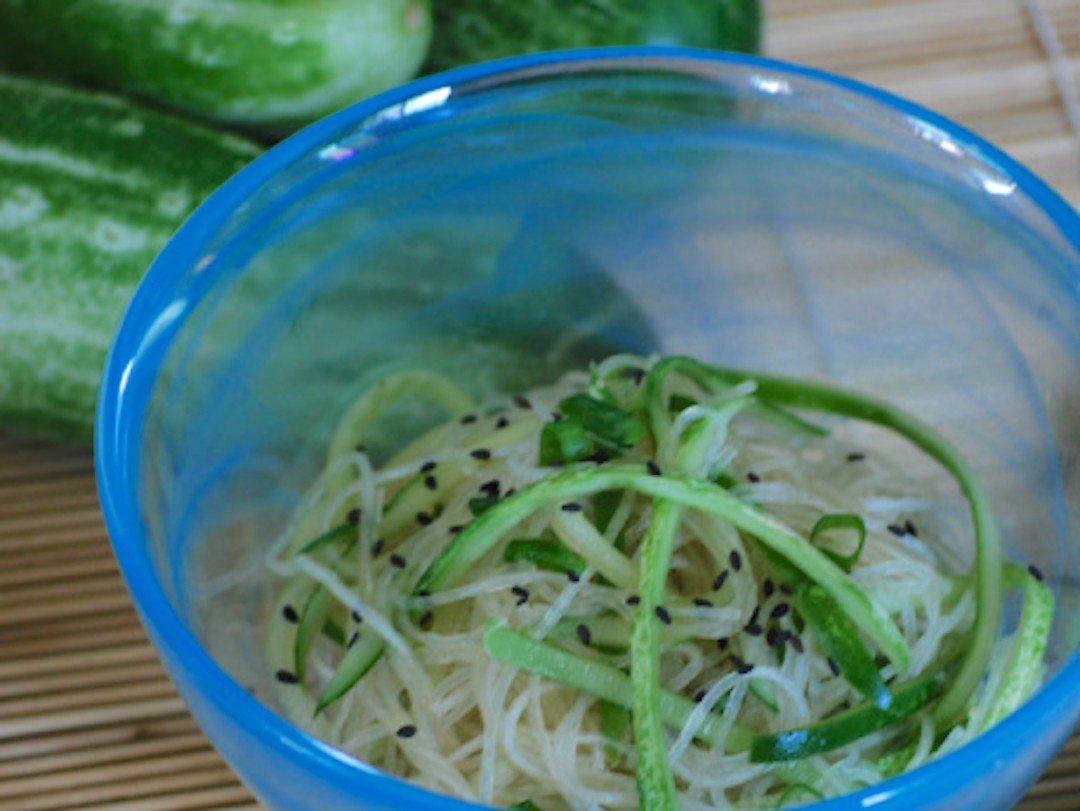 This is a cool and refreshing salad to make with the bounty of cucumbers in-season. It is also gluten-free if you use mung- bean noodles or rice noodles. Pairs great with anything off the grill or even topped with cold shrimp as a quick weekday summer meal. Cucumbers are high in cucurbitacins, lignans, and flavonoid phytonutrients. These types of phytonutrients provide us with valuable antioxidant, anti-inflammatory, and anti-cancer benefits.
Cucumber and Cellophane Noodle Salad
Serves 4-6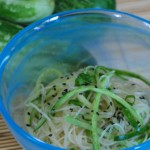 Ingredients
10 oz Cellophane Noodles *see note below
4 Medium Cucumbers
1⁄2 Teaspoon Sea Salt
2 Tablespoons Tamari (gluten-free soy sauce)
1⁄4 cup Seasoned Rice Vinegar
2 Teaspoons Sesame Oil
1 Tablespoon Fresh Ginger, grated

for garnish:
Sesame Seeds
Chopped Scallions
Instructions
In a large bowl cover noodles with hot water and allow to soak until

softened. Drain and rinse with cold water, set aside.

Wash cucumbers and cut into thin julienned strips using either a knife

or a mandoline – Leave out the seeds: they will "water down" your salad. Place cucumber "match sticks" in a separate bowl and toss with salt.

Add remaining ingredients to the cucumbers. Using kitchen shears cut the softened noodles into more manageable lengths (about 6"). Toss with cucumbers and dressing, place into a serving bowl, and garnish with sesame seeds and scallions.
Chill at least 2 hours or until ready to serve.
Notes
*Cellophane Noodles, also known as Glass Noodles, Bean Threads, or Chinese Vermicelli are available in Asian specialty stores or in some larger supermarkets. You may also substitute Rice Noodles. If you are not concerned about gluten you could also use angel hair pasta.