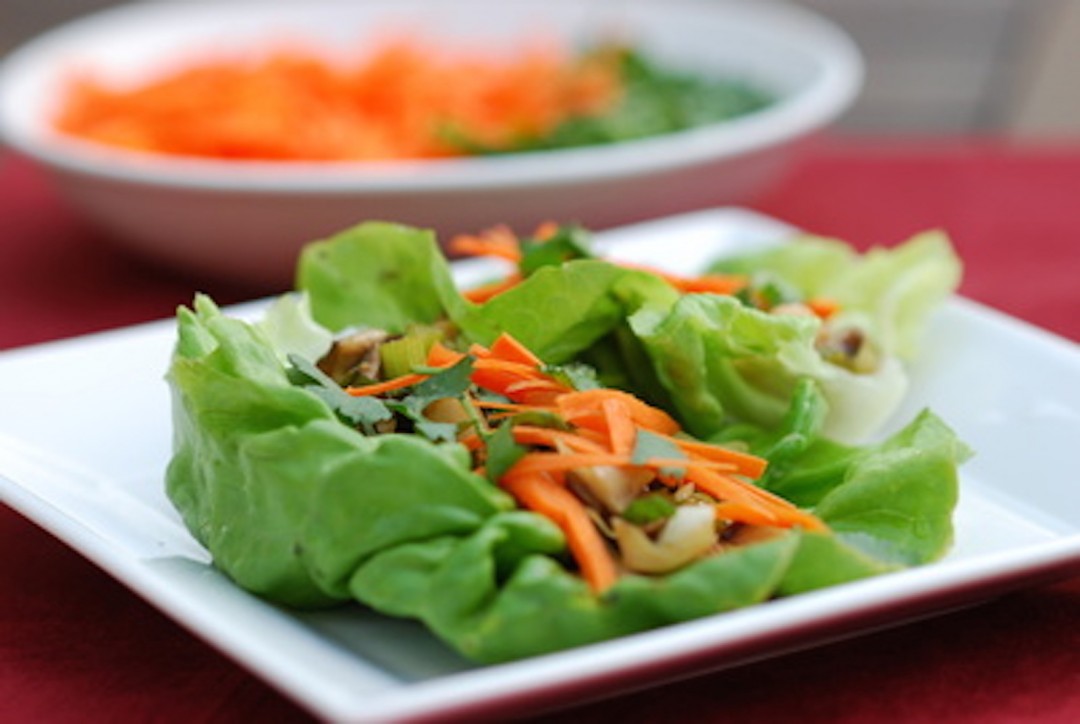 Here is my quick lettuce wrap preparation that includes mushrooms and other local veggies. This is a delicious choice on a hot summer evening or a Meatless Monday. This is one of those recipes where you have carte blanche and can include any extra veggies you may have on hand too!.
Mushroom Lettuce Wraps
Serves 4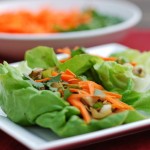 Ingredients
Boston or Butter Lettuce leaves, washed
Sauce:
1⁄2 cup vegetable stock
1 tablespoon Low sodium Soy sauce or Tamari
1 teaspoon Sesame oil
1 teaspoon Sherry or Rice Wine
1 tablespoon Rice wine vinegar
1 teaspoon Cornstarch
Filling:
2 tablespoons Canola oil
1 cloves Garlic, minced
1 teaspoon ginger, grated
2 Scallions, white and green parts, sliced
1 cup cabbage (any variety), finely diced
1 cup celery, finely diced
2 cups assorted mushrooms (shitake, oyster, etc.) finely diced
Garnish ideas:
Grated Carrot
Cilantro
Bean spouts
Grated Cucumber
Sriracha
Instructions
In a jar, or other screw-top container, add all sauce ingredients and shake to incorporate cornstarch. Reserve.
In a wok or large skillet heat oil over medium heat, add garlic and ginger. Cook about one minute.
Add remainder of filling vegetables and stir-fry until vegetables are just tender, about 5 minutes.
Push filling to one side of the pan to expose the bottom and creating a place to cook the sauce. Shake the sauce in the jar again then raise the heat in the pan and add the sauce to the exposed area.
Once the sauce comes to a boil, incorporate it with the vegetables and serve on a platter along side the lettuce and garnishes. Allow your guests build their own wraps.
Notes
Great Meatless Monday dish!