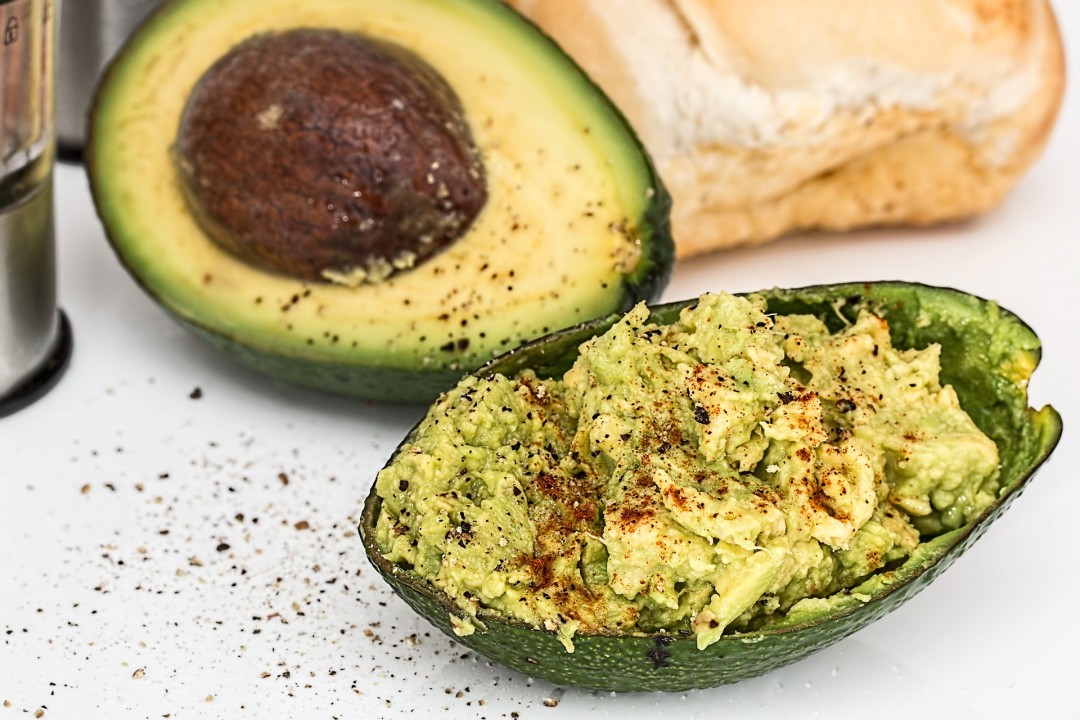 by Cindy Dexter, B.S.
During the late 80s the low-fat craze hit America by storm. We were told to avoid any and all fat for good health and weightloss. Fat is high in calories at 9 calories per gram, and when consumed in large amounts without enough physical activity, can cause weight gain. But in moderation some fat can support our health, brain growth and reduce the inflammation that can increase the risk for chronic disease. In the right amounts, healthy fats can help control our appetite during the day.
In scientific terms fat is called a lipid. Two types of lipids we familiar with are saturated fat and trans-fat. Most of us know that we should limit consuming these types of fats because of the increased risk of cardiovascular disease. Saturated fat tends to raise LDL, the bad cholesterol, in our bodies. Trans-fat is considered more harmful in large amounts since it has been recently discovered that they have the ability to lower HDL, the good cholesterol in addition to raising LDL. Consumption of both of these fats or lipids should be reduced and when possible replaced by healthier lipids.
There are essential lipids that our body needs for health. Two of them are monounsaturated fat and a polyunsaturated fat called Omega 3. These types help protect our heart and maintain our body's cells. They also help our bodies use vitamins A, D, E and K. They help to lower bad cholesterol that causes inflammation and clotting in our blood vessels.
Omega 3, more specifically DHA, has many possible health benefits for expectant mothers. Research suggests DHA supports baby's brain growth and development, and is promising for DHA's role in cognitive performance in children whose mothers consumed enough DHA during pregnancy.
How do we know which fats are healthy and were to we get them? One of their characteristics is that they are liquid at room temperature, while saturated fats and trans-fats are solid at room temperature. Oils such as olive, canola, peanut, safflower and sesame oil are rich in monounsaturated fat. In moderation using these oils while cooking instead of butter can provide health benefits. Peanut butter, avocado, nuts and seeds are also good sources.
Cold water fish such as mackerel, salmon, sardines and tuna provide omega 3 fatty acids. Pregnant women should watch for mercury levels in fish and might benefit from taking a supplement that includes DHA. Other foods high in Omega 3s are flaxseed, walnuts, soybean and tofu.
Getting enough healthy fat in our diets is not only beneficial to our health but can actually improve satiety throughout the day. Fats take a little longer to digest which make us feel full longer. As part of a healthy diet replacing saturated and trans-fats and refined carbohydrates with healthy fats and whole grains can help reduce the risk of cardiovascular disease, insulin resistance and diabetes.
References
Wartman, K. (n.d.). A Big Fat Debate. Retrieved January 13, 2015, from
http://www.huffingtonpost.com/kristin-wartman/a-big-fat-debate_b_831332.html
Boyles, S. (n.d.). Pregnant? Omega-3 Essential for Baby's Brain. Retrieved January 13, 2015, from
http://www.webmd.com/baby/news/20040716/pregnant-omega-3-essential-for-babys-brain
Omega-3 fatty acids: MedlinePlus Medical Encyclopedia Image. (n.d.). Retrieved January 13, 2015,
from http://www.nlm.nih.gov/medlineplus/ency/imagepages/19302.htm
Monounsaturated Fats. (n.d.). Retrieved January 13, 2015, from
http://www.heart.org/HEARTORG/GettingHealthy/NutritionCenter/HealthyEating/Monounsaturated-Fats_UCM_301460_Article.jsp
Trans Fat. (2014, January 8). Retrieved January 13, 2015, from
http://www.cdc.gov/nutrition/everyone/basics/fat/transfat.html