I was looking for an idea to dress up some of the fresh spring veggies that I picked up last week at the Greenport Farmers Market. I had some plain Greek yogurt in the fridge, and lots of herbs popping up in the backyard, and so was created this delicious creamy dressing that is reminiscent of Green Goddess, with healthy fats, and don't forget the probiotics too!

Creamy Greek Yogurt and Herb Dressing
12 Servings (2 Tbs each)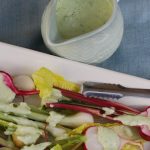 Ingredients
2/3 cup Fat-free Greek yogurt
1/3 cup Extra virgin olive oil
1 Lemon, juiced
3 Scallions, chopped
2 Tbs Fat-free milk
1 sprig fresh Dill, chopped
1 sprig fresh Oregano, chopped
1 sprig fresh Parsley, chopped
Salt and Fresh ground pepper to taste
Instructions
Combine all the ingredients in a blender or food processor and blend until incorporated.
Serve on fresh greens
Keeps 1 week in refrigerator.
Nutrition
For 2 Tablespoons: Calories: 63, Total Fat: 6.2g, Sat. Fat 0.9g, Carbs: 0.9g, Fiber 0.1g, Sugars: 0.8g, Protein: 1.5g (Sodium is 7.4mg before adding salt)