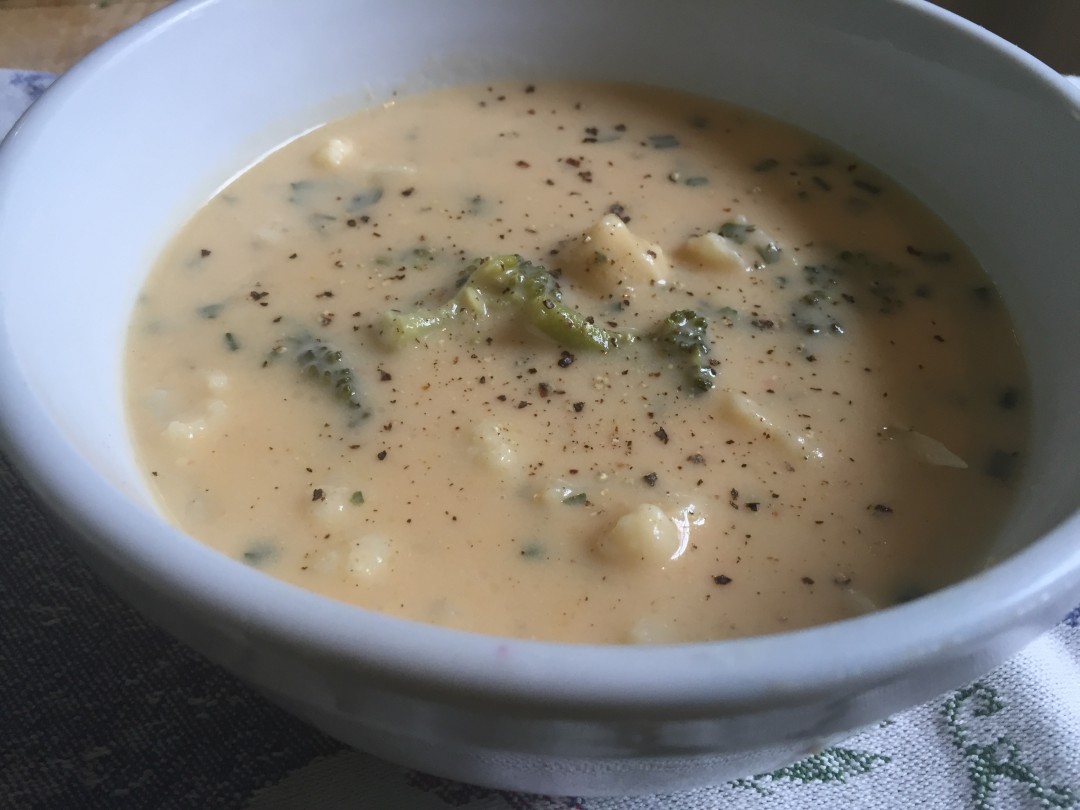 Yes, you can make a healthy version of a creamed soup that is just as delicious! By using evaporated milk the creaminess is there without the unneeded saturated fat. Thickened with a bit of wheat flour and a potato, full of fall vegetables and flavor – this is one to try. This soup also freezes nicely.
Cream of Cauliflower, Red Pepper and Broccoli Soup
Makes 10-12 servings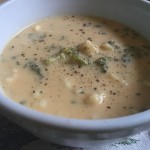 Ingredients
2 Tbs Extra virgin olive oil
2 Tbs White Whole wheat flour
1 large Yellow onion, chopped
2 cloves garlic, minced
4 stalks Celery, chopped
1 Red bell pepper, chopped
1 head Cauliflower, 2 cups bite-sized flowerets reserved, remaining head and stalk chopped
1 head Broccoli, 2 cups bite-sized flowerets reserved, remaining head and stalk chopped
1 Yukon gold potato, peeled and chopped
2 quarts chicken or vegetable stock
2 12oz cans Fat-free Evaporated milk
2 Tbs fresh Chives, snipped
2 Tbs fresh Parsley, minced
Salt and Pepper
Instructions
In a large stockpot heat olive oil on medium heat and add flour to make a light roux (see note), cooking down the paste for just a minute or so.
Combine onion, garlic, celery, and red bell pepper to the roux. Cook until onions are translucent, about 5 minutes.
Add stalks and remaining heads of cauliflower, broccoli, and also potato. Cook additional 5 minutes.
Add stock to pot. Cover, raise heat and bring to a boil. Reduce to a simmer and cook until all vegetables are tender, about 20-30 minutes more.
Puree soup with an emersion blender (or in batches in a counter-top blender and return to stock pot).
Add broccoli and cauliflower flowerets to pureed soup, cook 5 minutes or until tender.
Stir in evaporated milk and herbs. Heat through until hot on med-high heat.
Salt and pepper to taste then serve.