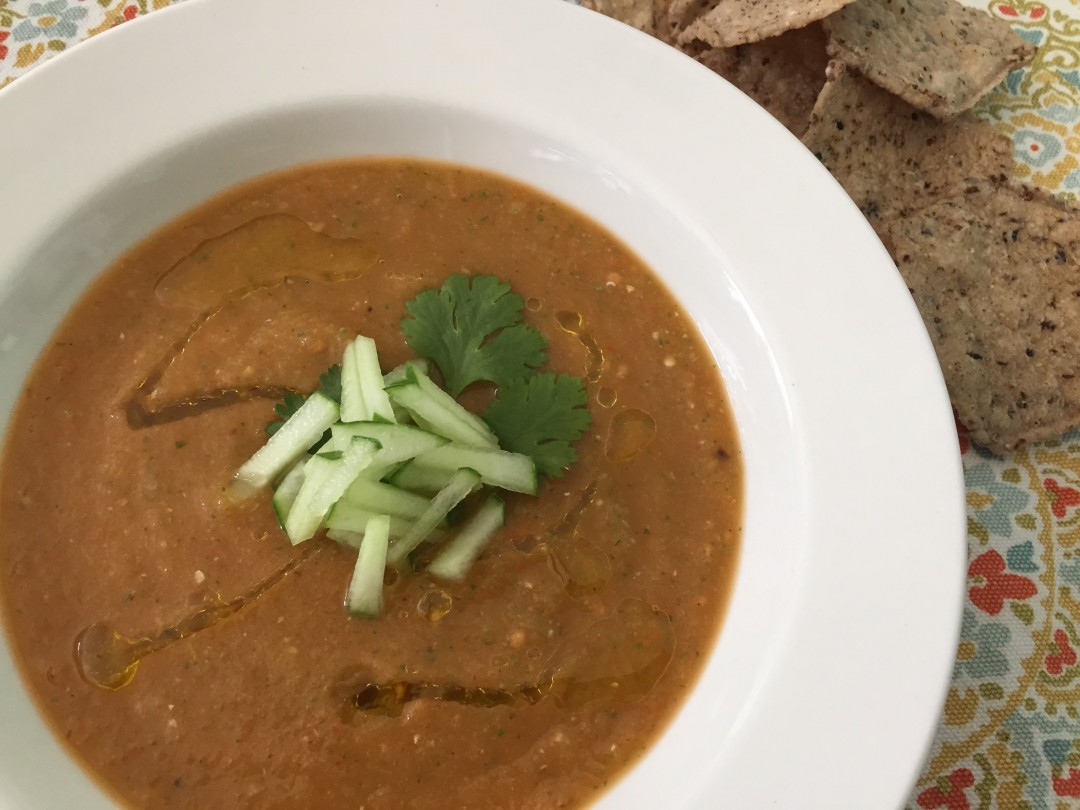 Summer is officially here! Tomatoes are in abundance at the farmers market and how can we not take advantage? Personally, I avoid tomatoes in the winter months. They just never taste like the fresh tomatoes of August and September. I really scored today by getting some beautiful MarGene Farms organic heirloom tomatoes from Gene and Maryann. What to do with them? Well… I love gazpacho, and I have a surplus of cucumbers coming out of my own small garden so this seemed to be a easy decision.
Roasted Heirloom Gazpacho
Makes 6 servings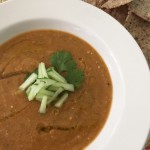 Ingredients
¼ cup Extra virgin olive oil
5 pounds Heirloom Tomatoes, cored and quartered
2 cloves garlic, halved
4 medium cucumbers with skin, chopped
2 sweet Bell or Frying Peppers, chopped
½ Jalapeno Pepper, chopped
¼ White Onion, chopped
¼ cup Cilantro
Red wine vinegar
Sea Salt and Ground Pepper, to taste
Extra virgin olive oil to drizzle
Instructions
Heat oven to 475°F.
Toss tomatoes and garlic in olive oil and arrange on a baking sheet.
Roast tomatoes 20-30 minutes until they begin to brown, remove from oven and cool to room temp.
Process all the vegetable ingredients in batches in a food processor or blender, including juices that have cooked off tomatoes.
Combine in a large bowl and add vinegar, salt, and pepper.
Completely chill the soup for at least 4 hours.
Serve in bowls, garnish with olive oil, cilantro, and chopped cucumber.
Notes
Roasting the tomatoes brings out a sweet richness in this cold soup and also brings out the antioxidant lycopene. Give this pumped up classic a try, it's great for a hot summer supper.